{JFBCLike}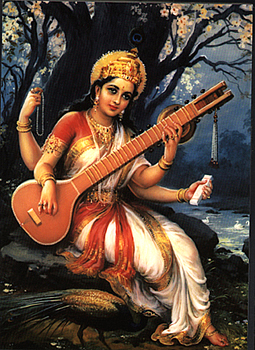 Prabasi warmly welcomes you to attend Saraswati Puja to be held on Jan 28th, 2012 at Sunnyvale Hindu Temple. Saraswati Puja is traditionally our occasion to see our children perform. We have numerous activities and talent shows planned for children this year.
Date: January 28,  2012
Venue: Sunnyvale Hindu Temple
Schedule for Saraswati Puja
11.30 AM- 1:30 PM

Saraswati Puja


11.00 AM-12:00PM- Saraswati Puja
12.0PM-12:20 PM- Kids Pujo
12.30 PM-1PM- Pushpanjali
1:00PM-1:30 PM- Hathe-khari

1:00 PM-3:00 PM

Proshad/Lunch

3.00 -3:15 PM

Devotional Offering to Goddess Saraswati by Suranjali School of Music
3:30 -3:45 PM

Sur Chhandam, Children's Group Musical
4:00PM-5:30 PM


Bay Area Got Talent (Solo and Group Presentation )

5:30PM-6:00PM

Evening Snacks for All Members ( Shingara, Jilipi & Chaa)
6:00PM-7:00PM

Muktir Upay, A Dance Drama
We will host a number of events catering to all age groups, so prepare to showcase your talent!
Art Competition for different age groups
Ages 4 and under: Pick your own theme
Ages 4-9: Theme is 'Family' - could be you and your family, could be animal families, could be families around the world. (Extra points for a creative title)
Ages 9-15: Theme is 'Friendship' - could be you and your friends, friends around the world, friendship in the animal kingdom. (Extra points for a creative title)
Ages 15-18: Theme is 'Leadership' - Men and women leaders of the past and the present, you and/or your friends in any leadership roles, importance of this quality portrayed through your creative artform. (Extra points for a creative title)
All art work must be done at home and the finished work must be brought to the site by 1:00 pm latest on Jan 28th, 2012 to the registration desk. Please clearly print your child's name and age (and the title if any) at the back of the art work.  Minimum size of the art work 8.5" by 11". Maximum size of the art work 11" by 14". Judging will not be based on poster size. Please kindly remind your child that participation is more important than winning.
Bay Area Got Talent
Session 1: Solo Items
Vocal/ Instrumental/Dance/Recitation
Each presentation not to exceed 3 min
Participants will be assigned to appropriate age groups.
Interested participants please send in your names to This email address is being protected from spambots. You need JavaScript enabled to view it..
Session 2: Team Items
Vocal/ Instrumental /Dance/Recitations
Each presentation not to exceed 5 min
Auditions will be held prior to the event
Interested participants please send in your names to This email address is being protected from spambots. You need JavaScript enabled to view it..
There will be exciting prizes for the winners of each of these events. All participants receive a Certificate of Participation

NOTE: To ensure participation, it is mandatory to register, so please email the title of the event you are interested in participating (specify on the Subject header). In the body of the email, please post your name, age, and any other information pertinent to your program.
We really do hope to see many of you participate in these events.
{JFBCComments}